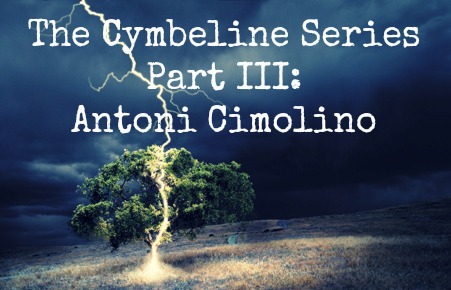 Cymbeline doesn't land on most people's lists of Top 10 Shakespeare plays, maybe not even Top 20. For this reason, we spoke to three people who have directed this play to get their take on a few questions that we've tackled since deciding to produce it. 
The final instalment of the series comes via Antoni Cimolino, who directed a widely acclaimed production at The Stratford Festival in 2012.
1. For a title character, King Cymbeline has very little time on stage and no time alone with the audience. How did you ensure that audiences would connect with him? Do you think the play would be better served by a different title?
"The King is Britain – literally and figuratively. At the beginning of the play he is sick – poisoned, we find out later, by his second wife, who longs to rule and install her son Cloten as King. Cymbeline has lost his two sons, abducted as infants, and with them he has lost himself. Like the two princes imprisoned in the Tower of London during Richard III's reign, Cymbeline's sons represent legitimacy and good government. During Shakespeare's lifetime, a patriotic and romantic dream surrounded the princes in the Tower: that perhaps they had not been killed but had heirs living among the people. Shakespeare echoes that legend in Cymbeline, bringing about a reunion of children with their father that still touches us today.
As Cymbeline defeats the Roman army, he finds himself re-energized. He is made victorious by Posthumus, the poor soldier, and by his imagined enemy Belarius and his sons. The very people that he has banished give him back his kingdom. In the final moments, King Cymbeline decides to pay tribute to Rome despite his victory. He not only signals Britain's voluntary participation in the Pax Romana, the new and long era of peace, he also renders unto Caesar what is Caesar's. While Caesar may have his coins in tribute, Cymbeline once more has the love of his children and Britain."
2. Most deus ex machina (god from the machine) moments are vital to the story. Jupiter's descent on the back of an eagle in Cymbeline is often cut and feels less integrated than many similar interventions by the Gods in other plays. What was your take on this moment and how important a role did the unseen whims of the deities play?
"This moment is normally cut or changed, but I thought, 'How often do you get to bring a giant eagle on stage?' Our eagle had a head about 2 feet wide and 5 feet long with red eyes that lit up as it came out of the dark. It had wings that spread about 20 feet and flapped by way of a pulley. These body parts were fixed on a rolling step ladder of the kind found in larger libraries. On its back Jupiter was mounted lit from below. With a giant bird shriek, smoke and the sound of enormous wings beating the audiences was surprised and transfixed. And with a flash of lighting and a crack of thunder it was gone. I'm pretty sure our eagle was very like that Shakespeare used. Except we added electricity.
Posthumus' dream is vital because it reunites the orphan child with his parents, at least in spirit. These family members strongly petition Jupiter on Posthumus' behalf and find that the god is testing their son. Their anger at this ancient god and his cruelty seems to call out for a God of Love. King Cymbeline, of course, ruled during the time of Christ's birth. The love of his family brings Posthumus a sense of wholeness, love and courage that is vital to the story."
3. Cymbeline isn't produced very often, especially in Canada; is it just the ebb and flow of fashion, or are people are afraid to do it? And if so, why? 
"The bad experiences I've had in seeing Cymbeline performed have been ones where the director and cast didn't have faith in Shakespeare's play. Consequently they try to "fix" it by cutting it, toning it down or ironically sending it up. What might be gained by such treatment is a speck compared to the beautiful mountain Shakespeare has created. Cymbeline is a great and powerful play that brings audiences understanding, laughter and tears. Tennyson, at his own insistence, was buried with a copy of it. Cymbeline merits our study and our creative powers – what it gives us in return is enormous."
Antoni Cimolino is the Artistic Director of the Stratford Festival, where this season he directed King Lear and The Beaux' Stratagem. Stratford: Directing credits include Mary Stuart; The Merchant of Venice; Cymbeline; The Grapes of Wrath; Bartholomew Fair; Coriolanus, with Colm Feore and Martha Henry; As You Like It, featuring original music by Barenaked Ladies; King John; Love's Labour's Lost, with Brian Bedford; Twelfth Night, with William Hutt; The Night of the Iguana; and Filumena, with Richard Monette. Among his other accomplishments, Mr. Cimolino was instrumental in establishing the Festival's Endowment Foundation, which has raised more than $50 million to date, as well as in the renovation of its Avon Theatre and the creation of its Studio Theatre. Elsewhere: The Canadian première of ENRON (Theatre Calgary); Twelfth Night (Attic Theatre, Detroit); A Woman of No Importance (Hilberry Theater, Detroit). A champion of the arts and culture, Mr. Cimolino serves as the National Chair of Culture Days, a nation-wide celebration of arts and culture in Canada. He has initiated collaborations with several prestigious theatre companies, including Montreal's Théâtre du Nouveau Monde, Ottawa's National Arts Centre, New York's Lincoln Center and City Center, and the Chicago Shakespeare Theater. He also spearheaded the Festival's involvement in a joint project with CUSO International, Canada's international volunteer co-operation agency, to establish a performing arts and educational centre in the city of Suchitoto, El Salvador.
As a bonus to The Cymbeline Series, Brendan McMurtry-Howlett, director of our upcoming production, will weigh in with his perspective on (to borrow a phrase from Antoni) "the beautiful mountain that Shakespeare has created". Stay tuned to our blog for Brendan's take on the play.
Shakespeare in the Ruff's, 
Cymbeline's Reign
, runs August 12th-31st in Withrow Park.