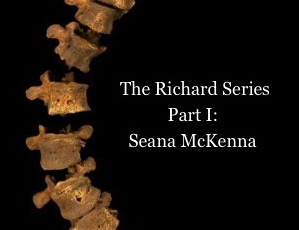 A coveted role from its debut, Richard III has been a delicious vehicle for actors for hundreds of years. Over the next few weeks, our Richard Series will offer the perspective of 3 distinctive Richards who have pondered the same 3 questions about playing the role. We start with Seana McKenna, who has spent 22 seasons at The Stratford Festival and is currently playing Madame Arcati in 'Blithe Spirit' & Queen Elizabeth I in 'Mary Stuart'. In 2011, she played the title role in Richard III at the festival and brings a unique perspective to our Richard Series as one of the few women to have played the part.
1-What was your relationship with the audience while playing Richard and did it change throughout the play?
Richard's relationship with the audience is paramount. The first words of the play are Richard's, speaking to the audience. He invites them to be confidantes, co-conspirators, and makes them complicit in his plots. He wants them to laugh with him at all the idiots around him who cannot see through his duplicity, encouraging the audience to feel superior to these gulls. We like him – he makes us laugh, he seems smarter than everyone else on stage, and he is the underdog. Above all, Richard is a sublime actor. He revels in his ability to turn on the tears, to entertain, to be whatever anyone wishes him to be in order to get what he wants. He delights in his versatility, in the fact that he is a consummate impostor. And the only reason for an actor to exist is his or her audience. It is a co-dependent relationship. In the production I was in, director Miles Potter found a moment where I stopped talking to the audience, excluding them from my confidences, no longer trusting even them. That is when Richard is truly alone. His last soliloquy seems more like Richard talking to himself out loud, than a direct address to the audience.
2-How did you develop the physicality of the part and what informed your choice?
Director Miles Potter, designer Peter Hartwell and I were all determined that playing Richard would not seriously injure my body, as it has so many other Richards. You can go many ways with Richard's alleged and talked-about deformities, but ultimately, we wanted what people said of him to be true, that there would be a reason why the other characters use animal imagery in their descriptions of him, besides describing his inhumane internal self. We wanted to create a strange creature, both female and male, or neither, who was the embodiment of evil, a creature who more than anything else, was closest to the popular character from medieval mystery plays, Vice.
The first practical consideration was which arm to "wither". Richard has a broadsword fight at the end, and I am right-handed, so we withered the left arm. To accentuate the smallness of my own hand, Peter and cutter Joanna Billings designed a corset/hump that was also built up and padded on the right shoulder, upper chest and arm. This made my right side look square, muscular and male, while binding my breasts and curving my spine with sculpted foam. Lightweight, and leaving the hips and legs utterly free. I curled my hand and rested it on my flattened chest at all times.
After trying out many gaits in my kitchen in the preceding months, I worked with Alexander teacher Kelly McEvenue and movement teacher Wendy Allnutt on my walk. I wanted no lifts in my shoes or anything external to force my walk- I wanted to divest myself of my "deformities" whenever I walked off-stage. We developed a rolling, loping kind of gait, that was irregular in rhythm and that allowed me to move very quickly, cutting figure eights in space. If I had to describe my outward appearance by the end, I would say it was close to a bird of prey, a small vulture…a black crow.
To aid in making me appear more masculine, or perhaps more gender-neutral, we decided I would have a receding hairline, with long stringy hair. Think aging second-rate rock star. I put on a bald pate first, and wig mistress Julie Scott and I applied makeup to the pate and my face, complete with red spots and blotches , almost as though I had had a difficult birth. On top of the pate, I wore the thin slightly oiled wig that Gerry Altenburg created for me. I darkened and thickened my brows. Sometimes I would look in the mirror and think, "Something's missing". And I realized the makeup was not complete until I changed my view of the world, and saw the world through Richard's eyes. The inside had to colour the outside, and Richard's insides were…bleak.
3-Did anything surprise you about playing the role?
I knew that Richard would be, had to be, fun – if my interpretation was going to translate. As Richard delights in his acting abilities, I had to delight in my own. Richard has a marvellous sense of humour, black though it may be, and for most of the play I think the audience laughs with him. After the innocent princes are murdered, their laughter ceases. I knew I would find pleasure playing him, but I did not think that playing Richard would be as exhilarating as it was, on many levels. First, I was able to combine my years of experience with a leading Shakespearean role, something very rare for a woman over fifty, but customary for a male actor. Most major Shakespearean roles for women are played when you are in your twenties and thirties, occasionally your forties. So this was a gift, to lead a company when I actually had the experience to warrant it. It was liberating to play a man, and a villain, and not apologize for speaking my mind or reacting as forcefully as Richard does. The face could be as unattractive and unpleasing as possible, the outward appearance actually repulsive. ( We were not going for the sexy leading man with a hump idea, but a being who obsessively observes and consequently knows how to manipulate people) .
What also surprised me was my sense of camaraderie with the males in the company, and I remember feeling this at fight call before each show. I felt part of a pack, part of the majority – and to feel it in a Shakespeare play was strange, but comforting. Is this what men feel like all the time in a classical company? Is it a good thing for them? Do they feel supported, or competitive? I don't know. I do know that as a woman playing a man, I was allowed to straddle both worlds at once, and felt part of both. I could enter either washroom without apprehension. But I didn't.
The other thing that surprised me was how attached I became to my dagger, hanging at my hip. Hmmm….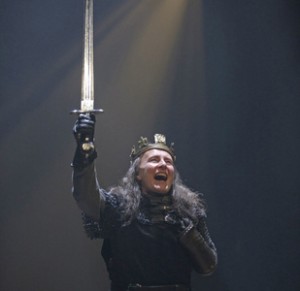 Next in our Richard Series, Tim Welham, takes us on the journey of his one-man Richard III; Crookback.