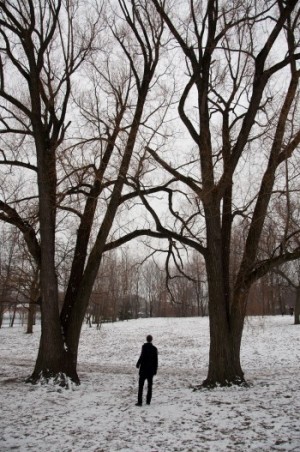 (Alex McCooeye writes about reprising his role as Richard III this summer, with Shakespeare in the Ruff, in Toronto's Withrow Park)
It's been five years since Diane D'Aquila directed my fellow classmates and me in Richard III at The National Theatre School. Time flies when you're murdering royalty. And although it was an incredibly fulfilling experience for all involved, Diane and I have never been able to shake the idea of performing the play again, but this time, outdoors.
Ms. D'Aquila, who has previously played both Margaret and Queen Elizabeth at The Stratford Festival, will be playing The Duchess in our production (she's too old for Ann now (I mean that respectfully)), has the rare ability to change the entire outcome of a scene with a slight shift in stress, or intention, or focus. During our time together at NTS, we spent as many hours uncovering the play as one might spend digging bones out of a parking lot.
Bad joke.
But one day, late in the process, when inspiration was at a low, and our minds were full of iambic pentameter, or prose, or who cared what the difference was, we were kicked out of our rehearsal room (probably because of those loathed French students (mes intentions sont respectful)). And so we were forced to do a run-through of the play in Laurier Park about 3 blocks down from the school.
Then everything broke wide open.
We had already been thinking of it as a young person's play. A youthful royal, treacherously battling his way through the old guard to get to the top. But young people can run, and a park allows for running. A lot of it. I stood in the middle as a murderer chased my brother across a baseball field, or a messenger ran over a hillside, or my trusted sidekick cursed me from across the street. All of this chaos with one man at the centre of it, canoodling with the audience all the while.
This is the experience that we've been chasing since that fateful afternoon five years ago, and with Shakespeare in the Ruff, we're bringing that to Withrow Park this summer. We're dying to share it with you, or should I say murdering?
Final bad joke.
(a sneak peak of Alex inhabiting the hunchback King in our second season announcement video below)