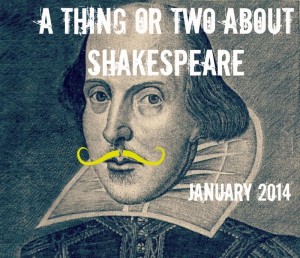 We, here at Shakespeare in the Ruff, come across a myriad of Shakespeare-related material. Every month we choose some of our favourites to share with you.
January 2014:
THING ONE
In celebration of the return of Sherlock this month (a favourite amongst us Ruffians), check out this audio clip of Benedict Cumberbatch performing 'The Seven Ages of Man' from As You Like It.
[youtube_video] YM8LAbuateI [/youtube_video]
THING TWO
Shakespeare to stay put here in Canada. The Sanders portrait of Shakespeare is likely being sold to a Canadian family with plans to exhibit it at one of our major art institutes.
READ GLOBE & MAIL ARTICLE HERE
AND ANOTHER THING
In honour of Peter O'Toole's passing last month, we wanted to share a fascinating conversation he had with Orson Welles about Hamlet, as seen on the BBC's Monitor in 1963. At the time, he was playing the title role in The National Theatre's inaugural production, directed by Laurence Olivier. O'Toole and Welles, along with a couple of the hosts, discuss the various approaches that people have taken in playing The Dane, as well as some of the big questions that every director has to grapple with when approaching the play. Intelligent and funny, this clip serves as a reminder of what captivating men both O'Toole & Welles were.
[youtube_video] smMa38CZCSU [/youtube_video]
Anything you think we'd like, please let us know in the comments.