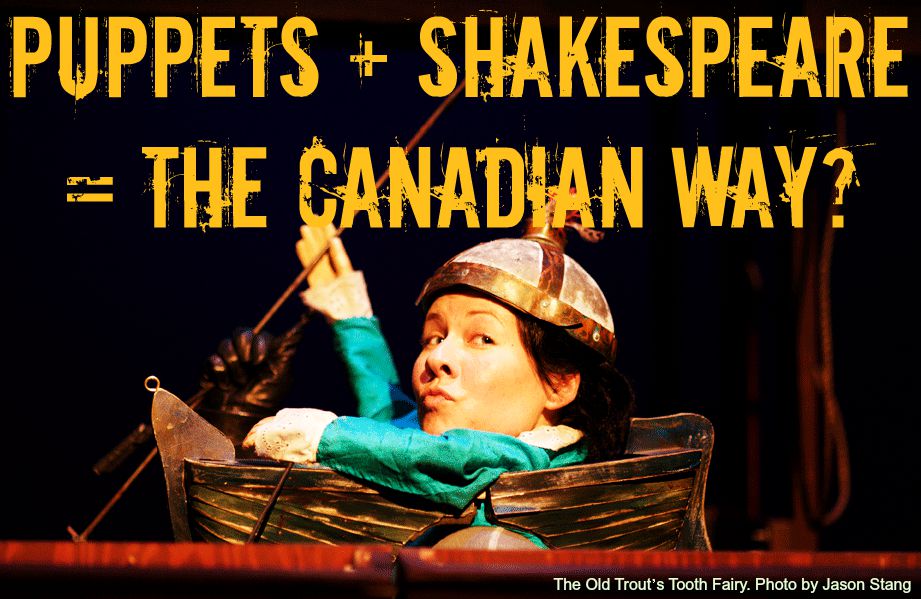 People keep asking what possessed us to combine Shakespeare and puppetry; as we head into the final week of rehearsals for 'Macbeth: Walking Shadows' (Aug 13th-30th), we thought we'd pass the buck, and ask someone else that very question. When we heard about Jillian Keiley's decision to bring puppets to the world of 'Twelfth Night', next season at the NAC, we were very excited (and relieved), that we weren't the only ones who thought puppets and Shakespeare would make a great combination. We'll get around to answering this question ourselves, but for now, back to rehearsal. -SitR
Programming Shakespeare at Canada's National Theatre – by Jillian Keiley
Even though I was raised on and have directed, acted in or assistant directed eight different Shakespearian productions, I have always felt kind of politicized about the sheer amount of Shakespeare that Canadians produce. Don't get me wrong – I love Shakespeare. But I'm also a nationalist. And it strikes me odd that the primary storyteller in our theatres is a man from another continent who had never dreamed of knowing Canada.
I believe in that good kind of nationhood: shared ideals, pride of place, together we are better. And so I believe that when a Hannah Moscovitch play slays a new audience or when Robert Lepage makes the world believe that Canada (or at least a part of Canada) is at the cutting edge of the craft – I think that's good for us, not just as an arts loving community but as a country: our stories, well told. So I do believe that Canadians and Canadian artistry should have priority in our National Arts Centre space.
However, when I took over the reins at the NAC I didn't want to restrict the programming to only Canadian writers. I am from the school that believes that the writer is a very important key creator in identifying the 'nationality' of a play, but I also believe that the director or ensemble of artists can interpret a play in such a way that is so unique to that artist or to that community that the play becomes a Canadian expression, if not an entirely Canadian play. I think Raoul Bhaneja's Hamlet is uniquely his version. I believe The Electric Company's No Exit was as much about the art of that company as it was about Sartre. I saw Modern Times' Macbeth several years ago and it was as unique a piece as I could imagine, using Shakespeare's Macbeth as the primary of many layers.  Chris Abraham's gay wedding Midsummer Night's Dream belonged more to the backyards of Toronto than anywhere else.
At the NAC, we have two ways of programming. We select six or seven shows a year to present from the multitude that we see live or on video. For our in-house productions, we bring together a group of actors from across the country to build that year's Ensemble. The Ensemble inspires the choice of plays for the season.   Often times, even though the Associate Artistic Director Sarah Garton Stanley and I pride ourselves on knowing as much as we can about the Canadian canon, we hit on a combination of people that seem to call for a classic which happens to be from somewhere else.
This coming season, for example, we happen to have the perfect alchemy of artists to do Twelfth Night. (Incidentally the other five shows for the Ensemble this year are Canadian.) I was very interested in how they would tell that story and hear that music. But also I wanted to see it envisioned by uniquely Canadian dreamers.   So I went to a team of the most unique Canadian dreamers I know – The Old Trout Puppet Workshop. This group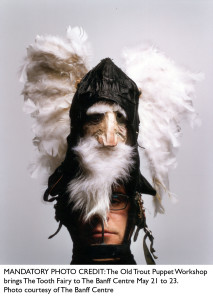 of guys, who started out in a shed south of Calgary performing for Hutterites, had the kind of vision that could engage visually with all of the textual delights in Twelfth Night. So we moved forward with the plan to do a Shakespeare as imagined by The Old Trouts. It won't be with marionettes or hand puppets so much as it will be visually animated using the Old Trouts' signature style.   The Old Trouts for years have done interpretive works that have blended quite animate inanimate objects with quite animated humans to great effect.
The last Shakespeare the NAC produced (outside of presenting the visiting Raoul Bhaneja's Hamlet) was Peter Hinton's all Indigenous King Lear. It too was a very Canadian interpretation. I believe this Twelfth Night in the hands of the great artists in our Ensemble and the Old Trout Puppet Workshop, will offer audiences an entirely new theatrical experience; and a uniquely Canadian one at that.
Twelfth Night runs January 20th-February 6th, 2016, in Ottawa at The National Arts Centre.