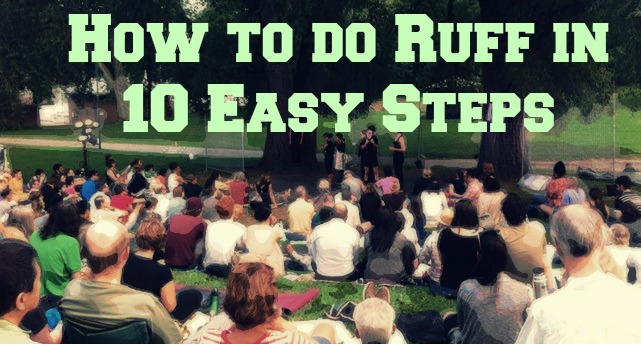 Shakespeare in the Ruff's production of Cymbeline's Reign ran in Withrow Park during the summer of 2014
1. Gather friends/family/children/dogs
Everyone is welcome. The more the merrier! Ruff performs an abbreviated version of Shakespeare's best that is easy to follow and an excellent introduction for the uninitiated.
2. Head to Withrow Park by 6:30
The performance officially starts at 7:30, but if you want to get the best seating, you should plan on coming around 6:30. There is plenty of time before the show starts to enjoy a picnic and some music (see below).
3. Bring a picnic
Outdoors on a summer's night in beautiful Withrow Park is the perfect setting for a picnic. Enjoy nature in the heart of the city. Pack up those sandwiches and pickles and come to nosh!
4. Bring a blanket or some lawn chairs
The Ruff "stage" is between two trees at the bottom of a small hill with an aisle up through the middle of the audience. You can sit on the hill on a blanket or at the top of the hill in lawn chairs. Either way you are right in the middle of the action. 

We have extra blankets and chairs for rent, but bring your own to avoid disappointment.
5. Pay the nice volunteers what you can 
We don't want to turn anyone away, so Ruff is a "Pay What You Can" (PWYC) admission. If you're not sure, we suggest $15 per person is fair. All monies collected go towards producing the performance which includes paying our actors, who invest so much into this company with very little financial return. So, show them some love and pay what you can, if you can.
6. Eateth, drinketh and be merryeth
While you are enjoying your picnic and waiting for the play to begin, enjoy the musical guests who perform almost every night from 7:00pm. We
showcase local musicians who are friends of Ruff or members of the Withrow Park community. 
As a special treat, the night of August 16th, the Young Ruffians will perform. These are high school students who have completed the Young Ruffian Apprenticeship Program, an intensive program with an emphasis on performing Shakespeare where participants learn and work alongside our professional company. Read more about the 

Young Ruffians

.
7. Sit back and enjoy the performance
 

Cymbeline's Reign is being directed by Ruff's Artistic Director Brendan McMurtry-Howlett who states "Cymbeline = Crazy-Amounts-Of-Fun" and "…it is a piece created as an exploration of new forms of storytelling…" Read all

Brendan has to say

.
8. Share your experience with more friends/family
Ruff is a small theatre company and only in its third year. We don't have the budget to advertise so we count on you, our community and our fans, to help us get the word out. Please tell everyone about your experience and encourage them to join us in Withrow Park this August.
9. Stay in touch
We want to hear from you and would love it if you'd agree to hear from us. Please

subscribe

to our email list, "Like" us on

Facebook

or follow us on

Twitter

and

Instagram

. You'll hear all about our plans, performances and events and we will get to learn what you thought of the performance, so get in touch.
10. Repeat 
The beauty of live theatre is that it's different every night, and with the sunsets, music series, and passersby, you can bet that an evening with us will never be the same twice, so please do join us again. Now go to #1.
Sheila Macdonald is one of Ruff's dedicated Board Members as well as an avid theatregoer. We've learned that trusting Sheila's advice gets us far, so you should too.