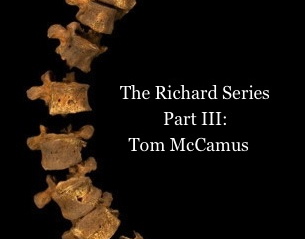 In the final instalment of our Richard Series, we speak to Tom McCamus, who played Richard at The Stratford Festival in 2002 and is currently spending his 13th season at the Festival, playing Friar Laurence in 'Romeo & Juliet' and Antonio in 'The Merchant of Venice'.  In our series, Tom arguably brings the most traditional approach to the role of Richard III, but as anyone who has seen Tom act can attest to, his invention and perspective are anything but conventional.  
1-What was your relationship with the audience while playing Richard and did it change throughout the play?
Particularly at the beginning of the play, I spoke to the audience. Someone told me once that the best way to do that kind of thing, if you're playing Richard III, is to imagine that the whole audience is made up of Richards, the assumption being that they all agree with you, so that you're not trying to convince anyone. And that's what I thought about and it made me laugh and it worked out well, because he's such a fabulous, theatrical character. The connection with the audience diminishes as the play goes on, but I did this one thing throughout with a list – as I talked about all the people who were dead, I'd cross them off the list. Towards the end, I crossed the wife off and that was pretty direct to the audience, but by that point, Richard actually wasn't looking for anything from them. I feel like he cuts them out partly because he's becoming more and more concerned about everything falling apart around him to be too much aware of the audience.
2-How did you develop the physicality of the part and what informed your choice?
I kept talking to people when I first got the part and they'd ask, 'Are you gonna have a hump?' and I'd think, 'Of course I'm gonna have a hump; if you're playing Richard III, you're gonna have a hump.' But I used to say to them, 'Oh no, no, no – we're gonna start the play sitting at a desk and he's gonna look totally normal, talking to the audience, and then halfway through the scene he's gonna get up from the desk and he's gonna have the biggest bum you've seen in your whole life and then he'll spend the entire play having to turn sideways to get through doors.' That made me laugh a lot, but then somebody said, 'Careful – if you tell Martha (Martha Henry, the director), she might actually suggest you do that.'
Ultimately, for the physicality, I had a hump, but it wasn't huge – it was more of a small deformity – and I also played with various degrees of Cerebral Palsy. I did the play 'Creeps' a long time ago, so I had explored that type of physicality and that kind of fit with Richard. My basic premise was that it came and went, depending on what he wanted from people. So, if he wanted more, the hump would be bigger, because it would elicit a certain amount of pity and then nobody would think he was a threat. He was like a dog that everybody kicked out of the way and before they knew it, boom, he was there.
3-Did anything surprise you about playing the role?
Everything. I didn't know a lot about it when I went to play it, so I was surprised by how funny he was, how theatrical, how different he was from everybody else in the play, just in the writing of it and in the character of it. I was surprised that he really had no feeling for anything or anybody, other than himself. It's a pretty early play and there's a lot of verse and structure to it, but Richard's kind of outside of that structure.
Another surprise is the way people reacted to things I did. They often said, 'Why does he fall (out of a tree at the beginning and during the coronation)?' or 'You shouldn't have done that,' about all kinds of things I thought were great. Part of it, especially with Shakespeare, is that people have such a strong idea of what it should be and if what you do doesn't fit, they don't always embrace it, and that surprised me. Most of the Shakespeare I've done, I've discovered, they haven't been roles I've always wanted to play and so I just do whatever comes to me.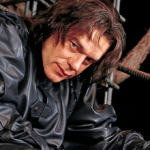 Ruff's 'Richard III' is playing from Aug 13th-Sept 1st in Toronto's Withrow Park. All the information can be found at www.shakespeareintheruff.com.