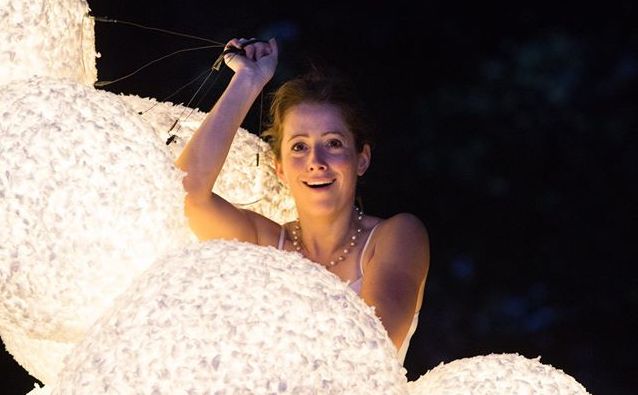 My adult life has be characterized by radical geographic change, moving from Montreal to London, then to New York City, and then to Toronto in under ten years. I've thrived on shaking it up and seeking re-invention. It's enabled some incredible adventures and opportunities, but I always sensed that it also left me missing something; a sense of community. When Brendan approached me about re-starting Shakespeare in the Rough (now Ruff), in 2011, I began my journey of finding that sense of community. 
When, over a year ago, Brendan reminded us that we needed to start thinking about a new Artistic Director, I automatically thought, 'well, I guess I'll leave too. We've had a good run, and after all, I came with Brendan, it only makes sense that I leave with him, five years as the Associate Artistic Director seems like enough.'
My need for re-invention and change kicked in, and then something else kicked in; a realization that my dedication to this company has grown beyond one person and is connected to the community we're a part of. I realized that I now have that thing in my life that throughout my 20's I felt was missing. I have learned so much being a part of Ruff, grown, and struggled, and delighted in the successes of everyone involved. Have felt supported in tough times and have met so many wonderful people along the way.
I am not ready to leave Ruff behind. I'm part of a company of people whom I adore and respect and am challenged by, and a Board of Directors who help us make our wildest visions come to life. Shakespeare in the Ruff is a platform to share Shakespeare's incredible plays and we get to do that with the most generous community of people who join us in Withrow Park every summer. I love Shakespeare. Since reading Hamlet in Grade 11 and dreading the day we got to Act V, knowing he would die, I was hooked. I love seeing his plays, acting in them, and talking about them. I love so much of what Shakespeare's writing has to offer and also have some serious beef with other elements of it.
I know we are at an advantage; our society makes a lot of room for Shakespeare, so my intention is to consciously populate that space with people who are less commonly offered that megaphone. To look at his plays from a less traditional angle, to defy convention, and to make them our own.
And a large part of addressing this has to do with how we cast our shows; casting at least as many women as men in our shows and having people of colour in lead roles is a priority for me. That may not sound revolutionary (and many companies across this city are doing it!), but until it is a given, until it is done at the highest level, until it is the new norm, viva la revolution!
In a country that is so diverse in culture and in language, where gender equality is being touted on every level, why is theatre, and Shakespeare in particular, an exception? Because it was written that way? I don't believe that it has survived for 400 years simply because it was written that way. It has survived because it has the quality to be deeply personal, reinvented, twisted into knots, and thrive because of it.
I feel ready to take on this beautiful challenge, in large part because I follow in the footsteps of an incredible leader. Brendan McMurtry-Howlett has an infectious spirit, mobilizing those who have been and those who are Shakespeare in the Ruff. It's one thing to take the reigns of a company that has a loyal audience base, decent infrastructure, and operating funding, and it's another things to start something from nothing more than the shadow of a past company and make it into something so vital. Brendan stepping down is something he said he would do from the beginning; 'I've got five years in me, and then I've got to move on'. And true to his word, he is. We will miss him very much, but his passion and vision for this company have infected us all. As he transitions into being an Artistic Associate, I know that his creative presence will also play a role in how the company evolves.
So that's what we're aiming for and what I want for Ruff moving forward. No small feat and impossible to do alone. Thankfully I'm not; with Eva Barrie, AJ Richardson, and Caitlin Sullivan, we forge on creating the accessible, joyful, challenging work that Ruff is known for, while running our Young Ruffian Apprenticeship Program for teens in tandem.
I'm so excited to share what we have in store for our sixth season, which we'll be announcing in early May. So here we go…the readiness is all.
-Kaitlyn Riordan