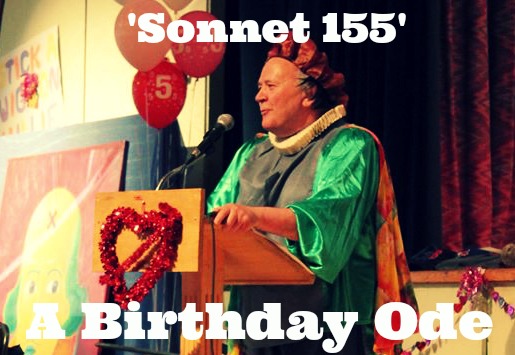 On May 26th, 2016, we celebrated our 5th Birthday by launching our 5th season in Withrow Park. Our Board Chairman, Larry Smith, penned a sonnet for the occasion, in the spirit of William Shakespeare, and Sonnet 155 was born. Not only did he perform it for us, but he did so dressed as an Elizabethan playwright. What a guy!
Sonnet  CLV

– by Larry Smith
When birthdays come, and come they tend to do,
With unfailing certainty, year to year.
A time it is to take a look anew,
And question all the reasons you are here.
A few have written countless pleasing plays;
While others have those lines breathed into life.
And managers have toiled away their days
Assuring the world's stage is without strife.
The playbills of our past, we call to mind
And think about our lines, our casts, our crew.
And wonder, with some fear, if we will find
A play next year with roles for me and you.
This year, what drama your life lacked.
Be thankful that you've got another act.