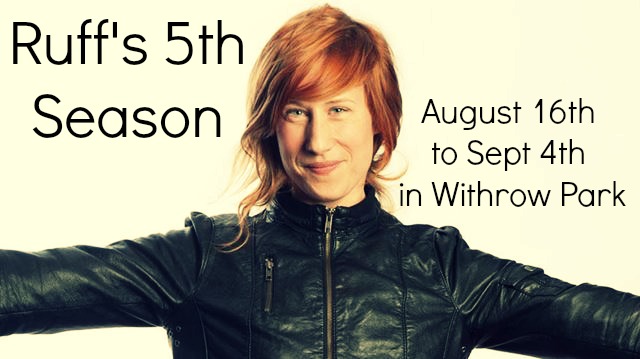 Drum roll please… We are very excited to announce that this summer, Andrea Donaldson will be directing 'Romeo & Juliet' in Withrow Park. Both a highly creative mind and an East End resident, Andrea brings a fresh perspective to our landmark fifth season. Some of her most recent work includes 'Within the Glass' at The Tarragon Theatre, where she is the Associate Artistic Director, and 'Mistatim' at The Young People's Theatre, starring Ruff's own Brendan McMurtry-Howlett. Below you'll get a glimpse of both Andrea's passion for this play and the strong theatrical potential of our home base, Withrow Park.
"I am interested in creating a beautiful summer evening which is inspired by love, inspired by the environment, inspired by the outdoors. That people can come and lay out a blanket and sit with their kids or their lovers or their friends and go from fights to really beautiful intimate romantic moments to huge moments in scale that can only happen with this huge outdoor environment.
A big piece of my interest in working outside is operating under the notion that the space in and of itself holds so much information and opportunity. The limitations that is poses are also opportunities in disguise. Having to locate where sundown is going to happen, having to imagine how the trees that I'm looking at right now, in the winter, will look when they're perfectly green and lush. How do we use the space, how do we enjoy the field that is 60 feet long, when in a theatre we typically only have 20-30 feet in depth. All of these things feel like huge gifts for me and actually a real source of inspiration as a starting point to ask – what are all the things we can do outside that we can't possibly do inside with four walls and a ceiling?
While I don't know what that evening's going to look like really precisely yet, the things I do know is that it's going to be really beautiful. I know that this Romeo & Juliet wants to be a story about two really unlikely young people who aren't drawn to each other because they should be, but because they can't help it. There's an inexplicable force that's connecting the two of them that doesn't make sense in their world. I think that that's truly what love is, the force of love, the power of love, and the power of healing that love can have."