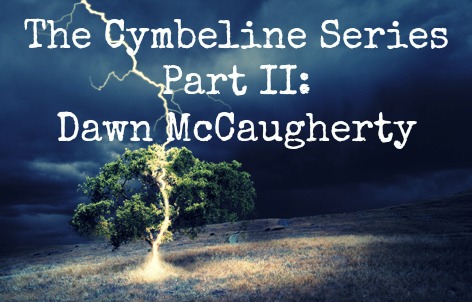 Cymbeline doesn't land on most people's lists of Top 10 Shakespeare plays, maybe not even Top 20. For this reason, we spoke to three people who have directed this play to get their take on a few questions that we've tackled since deciding to produce it. 
Second up in our series, is the founding director of Shakespeare in the Rough, the company that provided the inspiration for Ruff, Dawn McCaugherty. The company was founded in 1994, and their first production was Cymbeline.  
Cymbeline was the first full length Shakespeare I directed and is still dear to my heart. I've always been drawn to the 'fairy tale elements' of the story – the evil queen, idiot stepson, true and honest servant, lecherous cad, sleeping beauty a.k.a Imogen and, in this case, the three 'dwarves' living in the cave in the forest (I take liberties with this assessment). It's a bit like a roller coaster ride – you leap in at the start, hold on tight through the middle and jump off a little dizzy, though elated, at the end. Of course, it also challenges us to consider faithfulness in the face of deception and jealousy, murderous vengeance and the relative merits of Britain vs. Rome. Never a dull moment!
In the spring of 1994, I was preparing to leave TO at the end of the summer and return to Alberta for a few months before heading off to Vancouver to accept a semester of teaching in UBC's BFA Acting program. I had been teaching at York and have a memory of being at an end of term party speaking with Roy Lewis of how great it would be to work together before I headed out – and, surprisingly, him agreeing. Now, this is twenty years ago; there is a lot of water under many bridges since then and I never trust my memory much at the best of times, but history is determined to some degree by those who record it – and I've been asked to write of the origins of Shakespeare in the Rough. I knew I wanted to do Shakespeare and was excited right away at the possibility of doing an outdoor production in a very simple setting, having a frolicking good time with friends in a park somewhere. Little did I know what a labour of love it would become, for all of the brave souls that became involved. I spoke early on with good friends Sally Szuster and David Caron, and the three of us eventually became the co-founders of that first incarnation of Shakespeare in the Rough, though it didn't become clear until after Cymbeline closed that there was desire on the part of many, if not most company members, to continue.That launched the company on a trajectory through several evolutions, happily leading most recently to the re-birth as Shakespeare in the Ruff.
There was a lot to sort out in a big hurry that year. I honestly can't recall at what point or why Cymbeline leapt to the front of the selection line. I'm sure the ensemble nature of the piece, a balance of interesting roles, and the fact that the play is seldom performed made it irresistible. Almost everyone in the cast that year was a good friend, which could well be why they agreed so readily to be involved. There certainly wasn't any remuneration to speak of. I don't think at the time many of us were Equity, though I might have that wrong. The company included (in no particular order) Roy Lewis, Michelle Martin, Todd Sandomirsky, Richard Vaillancourt, Paulino Nunes, Brad Borbridge, Rick Howland, Stephanie Moore, Mark Ellis, Catherine McNally, Robert Kennedy, Roddy Muir, Fred Matern, Fight Choreography – Simon Fon, Stage Management – Shanna Miller, Costumes/Props – Charmaine Peters. We also had the backing of many good friends and supporters, including Michael Kelly (Shakespeare in Action) and David Smukler. (I know I've missed some people and hope they will forgive me. I'm blaming my terrible memory and inability to find a program in my files). The early rehearsals held in my kitchen or backyard (tiny) patio, focused mainly on the text work, before moving into the park. As the actors and I unraveled the text, Sally, David and others were arranging insurance, contacts with city officials, support for the project and city approval, publicity and marketing, searching for indoor rehearsal space near the site and all the other myriad tasks that producing requires. It was exciting and terrifying, that sense of running uphill as the scree slid down, with no doubt that we would reach the summit.
That first year we wound up in Riverdale Park, on a piece that wasn't too sloped, the audience facing out towards the Don Valley Parkway. Our playing area was completely exposed to environmental sounds – aircraft, traffic – and all the elements. The sheeting we had chosen to use as a backdrop for our scenes, and to block the view of the traffic downhill, worked like a charm – until the wind picked up. I have vivid, hilarious memories of one particular performance where every actor not out in a scene, as well as my visiting father and I, was behind, braced and hunched with fingers hooked into the sheeting in the struggle to keep the wind from blowing it into the audience. One of my favourite aspects of Shakespeare in the Rough once we moved into Withrow Park was the vista it afforded to introduce relationships and observe entrances and exits at a distance behind the action of the written scenes. In fact, when we moved to Withrow, there was a sense of winning the lottery!
1. For a title character, King Cymbeline has very little time on stage and no time alone with the audience. How did you ensure that audiences would connect with him? Do you think the play would be better served by a different title?
"I guess I'd have to say that I've never considered this the story of Cymbeline. For me, it is Imogen's story; it is her trials we follow and through her loyalty and determination we learn something of love. Perhaps, though, the title is meant to draw attention to events occurring during this reign. The play takes place in ancient Britain, at a time after Rome has invaded and is requiring tributes paid to the conqueror. The name Posthumous indicates Roman heritage and when exiled, he returns to Italy. But when he returns with the Roman forces, he abandons them to fight on the side of the British, who ultimately win the battle. I wonder if, in titling the play as he has, Shakespeare is not drawing our attention to the supremacy of the British, adding to the sense of order and justice being restored at the end of the play, and placing the story in a broader context than simply a love story."
2. Most deus ex machina (god from the machine) moments are vital to the story. Jupiter's descent on the back of an eagle in Cymbeline is often cut and feels less integrated than many similar interventions by the Gods in other plays. What was your take on this moment and how important a role did the unseen whims of the deities play?
"I regret to say I have absolutely no recollection of how we handled that. I know it was not cut as I seldom cut significantly when directing Shakespeare. I suppose I like the challenge of puzzling out how it can work if everything is left in, as close as possible to the text produced during the playwright's time. But what brilliant stage mechanics we executed from behind our sheet background may be forever lost to the annals of theatre history. Perhaps one of the founding company members might be able to offer this information?"
3. Cymbeline isn't produced very often, especially in Canada; is it just the ebb and flow of fashion, or are people are afraid to do it? And if so, why? 
"What a great question. It is a script that poses challenges, no doubt, and is not without problems. Co-authorship may be a possibility, as some of the text seems not of Shakespeare's quality. The characters at times verge to stereotypes and the plot twists can be serpentine. I think, though, these issues are no more pronounced than in some in the oft produced works. Perhaps what prevents companies from tackling this play is the schism between what might seem sections of broad melodrama or comedy, such as those featuring Cloten, and the dramatic more tragic sequences, as Imogen's struggles once she learns of the death threat. It resists falling comfortably into one style or category and requires boldness in approach. Maybe it hasn't been seen as 'serious enough' to be a contender for production when measured alongside the great tragedies, resounding histories or whimsical comedies. But the play stands on its own merit and plays well to audiences. I am encouraged that in 2014 there have been several productions: Bard on the Beach (Vancouver), the Folger Shakespeare Library (Washington), Portland Center Stage, Raleigh North Carolina and the film starring Ethan Hawke is due for release soon. And, of course, Ruff is doing it! I only wish I could be there. Have fun, all, I'm sure it will be a fantastic run!"
Next week we speak to someone who had the resources to hire actors to play every part in the play. Including Jupiter and his eagle, we assume.