The annual Shakespeare in the Ruff Elizabethan Gala is the company's major fundraising initiative.  We rent a space, in this case the Enoch Turner School House, load up on the food and drink and plan a packed program from beginning to end.  The event is months in the making and like a firework in the sky, it is over before you know it. 
For those of you unable to attend this year, fear ye not. I have comprised a comprehensive list of the greatest things about the Gala.
1. OUR GUESTS- If you build it they will come. You hope. So we built it…and people came! The support of our community was a truly humbling experience and we could not be more grateful. Thank you to everyone who attended.  Did you miss out? Be sure to subscribe to our newsletter to receive info on next year's event.
---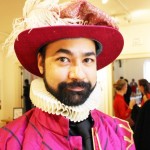 2. THE HERALD- Our company member AJ did a marvelous job welcoming our guests to the party. The days of formally announcing a guest's arrival are unfortunately behind us. Unless of course you actually work for a King or Queen. In which case I say, are they hiring?
---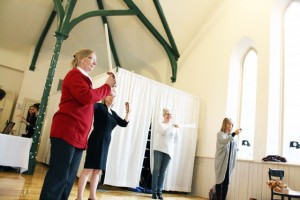 3. PLAYING WITH SWORDS- We know kids like to play make believe but I don't think anything brought more joy to my heart than watching a group of adults learn the basics of sword fighting. They looked like kids in a candy shop.
---
4. LEARNING TO JUGGLE-I take it back, learning to juggle was pretty joyous too.
---


5. LIVE AUCTION- We took the phrase 'live auction' quite literally. A winning bet would garner you four hours of time with your auction "item". Want that grass cut? Jesse will do it. Need a personal shopper? Brendan is on it. How about the service of the entire company to cook, clean and serve your next house party.
---


6. THE FOOD & THE DRINK – I think there were a few people who spent the entire night at the food station and to those folks I say good on ya!  And what better way to wash down a scrumptious feast than with a nice glass of Barefoot wine?  When in doubt an ice cold Sleeman's Honey Brown will always do the trick.
---

7. SILENT AUCTION- Toronto Maple Leafs tickets, restaurant gift cards and original pieces of artwork. All donated. All incredible.
---

8. THE PERFORMANCE- Capping off the night we held a mini performance in the actual turn-of-the-century School House with our guests squeezing into the wooden desks like so many students had done decades ago.
---

9. CELEBRITY APPEARANCE- We were overjoyed to welcome the Queen of the East – the Councilor of Ward 30 – Mrs. Paula Fletcher herself.  After she offered some wonderful words of welcome she made herself right at home partaking in the refreshments, placing some bids and enjoying the company of those in attendance.
---

10. TOUCHING WORDS – An excerpt from the closing speech by Brendan McMurtry-Howlett, SitR Artistic Director "… the foundation laid by your financial support allows us to chart a course forward into the unknown and challenge our own creative limits. In the past two years we have found out what we are capable of and with your support, we are able to push our potential and challenge the limit of what we think we're capable of. Your donations become the very kernel that brings us together for that moment of theatre where even the trees hold their breath."
---

The Benefits of Giving to Shakespeare in the Ruff can be found here
For more information, contact Jesse Griffiths at: development@shakespeareintheruff.com
Thanks to our guests for their generous support, from all of us at Ruff (Brendan, AJ, Lois, Jesse, Brooklyn & Kaitlyn)