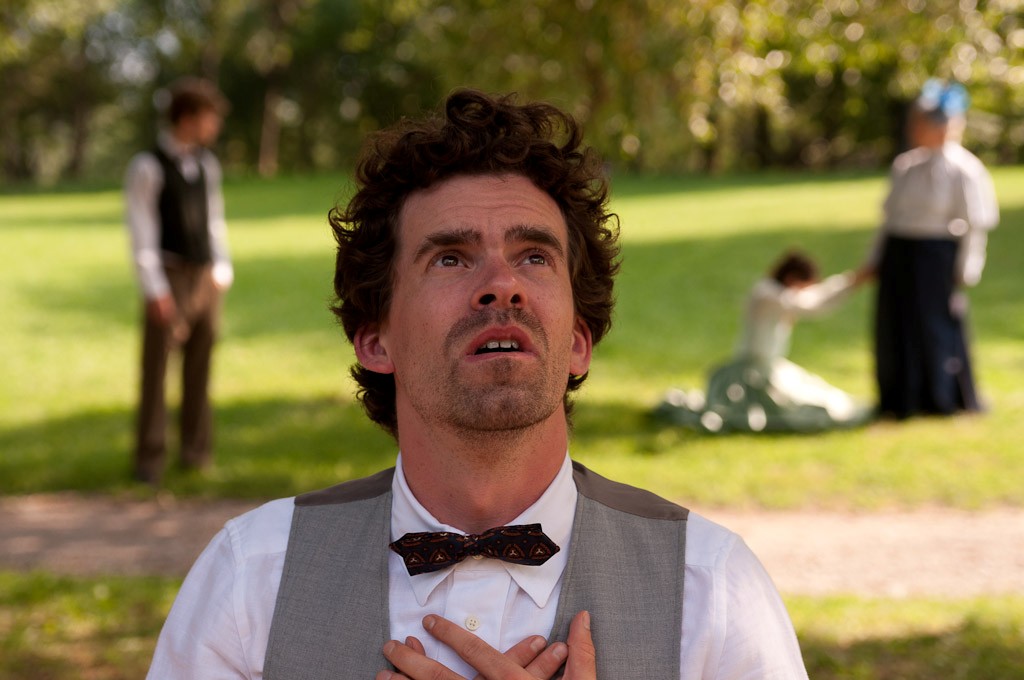 So it's Valentine's Day!  Like many of us here, you may be panicking because life got in the way and you didn't get your loved one something special like flowers or chocolates or even a card. So we at Shakespeare in the Ruff decided to offer you a little help. Our resident lover, hopeless romantic (he was playing Valentine in the picture above after all) and might we add single, Jesse Griffiths, has compiled his Top Ten List of romantic lines from Shakespeare.  If you are in a pinch for an incredible romantic gesture, take a minute to memorize one of the lines below and wow your lover (or bestie), with your diction and line endings.
As an added bonus, if you can top Jesse's selection with a love line of your own (does not have to be Shakespearean), Ruff will award you and a guest with VIP passes to our annual Ruffing It event coming up at the end of March. This will include free admission, reserved seats and a round of drinks on us! Post your love line in the comments section before the end of Valentine's Day for your chance to win.
Happy Valentine's Day from Shakespeare in the Ruff! 
1. Romeo and Juliet
My bounty is as boundless as the sea,
My love as deep; the more I give to thee,
The more I have, for both are infinite.
2. The Tempest
Hear my soul speak:
The very instant that I saw you, did
My heart fly to your service.
3. As You Like It
If thou remember'st not the slightest folly
That ever love did make thee run into,
Thou hast not loved.
4. Sonnet 116
Love alters not with his brief hours and weeks,
But bears it out even to the edge of doom.
If this be error and upon me proved,
I never writ, nor no man ever loved.
5. Hamlet
Doubt thou the stars are fire;
Doubt that the sun doth move;
Doubt truth to be a liar;
But never doubt I love.
6. Love's Labour's Lost
When Love speaks, the voice of all the gods
Makes heaven drowsy with the harmony.
7. Venus and Adonis
Love is a spirit all compact of fire.
8. Romeo and Juliet (there had to be at least 2 from this play)
Love goes toward love as school-boys from their books,
But love from love, toward school with heavy looks.
9. Twelfth Night
If music be the food of love, play on;
Give me excess of it, that, surfeiting,
The appetite may sicken, and so die.
10. Cymbeline 
I can express no kinder sign of love, than this kind kiss.
You got something better? We'd love to hear it.